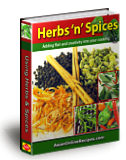 Mastering Herbs and Spices
Discover the important elements in adding flavor with Herbs and Spices, blending skillfully that leads to a successful dish!
---
The ultimate website to the fresh, fragrant and colorful Asian recipes. It celebrates and demystifies the flavors of the East with traditional and modern Asian cooking recipes side by side and practical guides on buying and using ingredients.....this is the website for cooking authentic Asian cuisines at home.....spoil yourself by indulging in a tantalizing line of mouth watering Asian cuisines by unleashing yourself to our more than 3,000 pages of Free Asian cooking guide and online recipes of various countries in Asia. A website that truly focus on food and cooking recipes that is just not only providing body fuel but also an expression of culinary artistry.
---
Free updates on Cooking Guide Made Easy......

There is a widespread misconception on how to become a great cook. It is not simply the mere memorization of hundreds or thousands of cooking guides. Neither is it the case of having access to special tools and ingredients as there are no special magic in the knives or spices. Anyone who is serious about cooking must learn lessons of greater value and this is where this free newsletters come in.....

Please note that your email address is Private and Confidential and will NOT be rented or sold to any parties. Moreover, we will place an unsubscribe link in all our emails so that you could unsubscribe yourself if later you decided to.
A whole range of good eating from Asian cuisine to classic everyday food. Contains everything from simple soups to exotic main courses, from family puddings and snacks to desserts for the most lavish of dinner parties. Dip into this tremendous range of recipes and you'll be sure to find everything you need.