Asian Recipes to the fresh, fragrant and
colorful cooking of Asia.....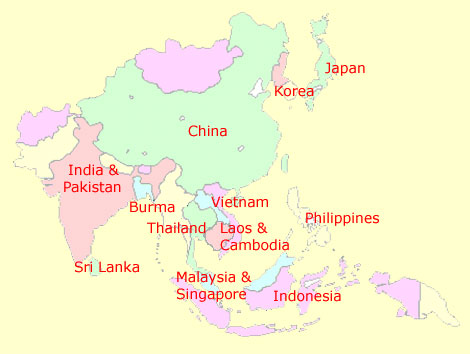 Burmese Recipes | Chinese Recipes | Indian & Pakistani Recipes | Indonesian Recipes
Japanese Recipes | Korean Recipes | Laotian & Cambodian Recipes
Malaysian & Singaporean Recipes | Philippines Recipes
Sri Lankan Recipes | Thailand Recipes | Vietnamese Recipes
Starters and Snacks | Stocks and Soups | Seafood | Beef and Veal | Lamb and Pork | Poultry and Game
---
The Spicy Asian Way
Even though Asian countries are spread over half of the world, the many Asian recipes have numerous factors in common. Spices and traditional herbs are used widely in recipes, rice is a staple food, and countless ingredients, for example noodles, soy sauce as well as tofu, have crossed borders from a single nation to another and continue doing so......

It has been around for so many decades, Asian recipes is all of a sudden the great new cooking. Restaurant culinary chefs from the East to West are adding Asian recipes, fresh ingredients and cooking methods into their collection, suburban greengrocers as well as food markets are selling fresh cilantro and lemon grass, filled with flavor, and in no way dull or bland. Nowadays most of the herbs, spices, veggies and other items required to produce authentic Asian dishes can easily be bought, usually in nearby grocery stores. The more uncommon ingredients are available in Asian food stores. With its focus on grains and vegetables, it is also wholesome, inexpensive and often fast to cook. Yet it's unfair to generalize.

Asian recipes are multi-faceted and diversified as European recipes. While neighbors share some common ingredients and cooking styles, Asian nations have created cuisines which are distinctively their own. Testing the food of each is really an experience.
Happy cooking............the Asian Recipes way.....