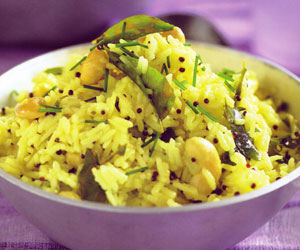 In this a much-loved dish from southern India, the snow-white grains of basmati rice are tinged with turmeric and adorned with black mustard seeds. The main flavor here is that of curry leaves, which is the hallmark of southern Indian cuisine. It is important to allow the cooked rice to stand to enable the grains to absorb any remaining moisture. Use a metal spoon to transfe the rice to the serving dish, as a wooden spoon will squash the delicate grains.
Ingredients: (Serves 4)
225 g/8 oz basmati rice
2 tablespoons sunflower or olive oil
½ teaspoon black or brown mustard seeds
10-12 curry leaves, preferably fresh
25 g/1 oz cashew nuts
¼ teaspoon ground turmeric
1 teaspoon salt, or to taste
450 ml/16 fl oz hot water
2 tablespoons lemon juice
1 tablespoon snipped fresh chives, to garnish
Method:
Wash the rice in several changes of cold water until the water runs clear. Leave to soak in fresh cold water for 20 minutes, then leave to drain in a colander. Heat the oil in a non-stick saucepan over a medium heat. When hot but not smoking, add the mustard seeds, followed by the curry leaves and the cashew nuts (in that order).
Stir in the turmeric, quickly followed by the rice and salt. Cook, stirring, for 1 minute, then add the hot water and lemon juice. Stir once, bring to the boil and boil for 2 minutes. Cover tightly, reduce the heat to very low and cook for 8 minutes. Turn off the heat and leave to stand, covered for 6-7 minutes. Fork through the rice and transfer to a serving dish. Garnish with the chives and serve immediately.