Chili-Cilantro (coriander) Naan Recipe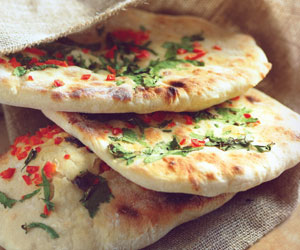 Naan came to India with the ancient Persians, and it means 'bread' in their language. Naan is traditionally made in the tandoor (Indian clay oven), but this can be emulated by using a very hot grill.
Ingredients: (Makes 8)
450 g/1 lb plain flour
2 teaspoons sugar
1 teaspoon salt
1 teaspoon baking powder
1 egg
250 ml/9 oz fl milk
2 tablespoons suflower or olive oil, plus extra for brushing
2 fresh red chilies, chopped (deseeded if you like)
15 g/½ oz fresh cilantro (coriander) leaves, chopped
2 tablespoons butter, melted
Method:
Sift the flour, sugar, salt and baking powder together into a large bowl. Whisk the egg and milk together and gradually add to the flour, mixing it with a wooden spoon, until a dough is formed.
Transfer the dough to a work surface, make a depression in the center of the dough and add the oil. Knead for 3-4 minutes, until the oil is absorbed by the flour and you have a smooth and pliable dough. Wrap the dough in clingfilm and leave to rest for 1 hour.
Divide the dough into 8 equal-sized pieces, form each piece into a ball and flatten into a thick cake. Cover the dough cakes with clingfilm and leave to rest for 10-15 minutes. Preheat the grill on high for 10 minutes, line a grill pan with a piece of foil and brush with oil. The traditional shape of naan is teardrop, but you can make them any shape you wish. To make the traditional shape, roll each flattened cake into a 12.5/5 inch diameter round and pull the lower end gently. Carefully roll out again, maintaining the teardrop shape, to about 23 cm/9 inches in diameter. Alternatively, roll the flattened cakes out to 23 cm/9 inch rounds.
Mix the chilies and cilantro together, then divide into 8 equal portions and spread each on the surface of a naan. Press gently so that the mixture sticks to the dough. Transfer a naan to the prepared grill pan and cook 13 cm/5 inches below the heat source for 1 minute, or until slightly puffed and brown patches appear on the surface. Watch carefully, and as soon as brown spots appear on the surface, turn over and cook the ohter side for 45-50 seconds, until lightly browned. Remove from the grill and brush with the melted butter. Wrap in a tea towel while you cook the remaining naans.