Recipe for mint and cilantro (coriander) rice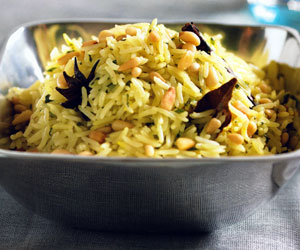 The slender grains of fragrant basmati rice complement the delicately flavored pine kernels, both prized ingredients from northern India in this sumptuous pilau. Saffron adds an exotic touch, with its age-old reputation for beinsg rare and costly.
Ingredients: (Serves 4)
Good pinch of saffron threads, pounded
2 tablespoons hot milk
225 g/8 oz basmati rice
2 tablespoons sunflower or olive oil
5 cm/2 inch piece cinnamon stick, broken in half
4 green cardamom pods, bruised
2 star anise
2 bay leaves
450 g/16 fl oz lukewarm water
3 tablespoons fresh cilantro (coriander) leaaves, finely chopped
2 tablespoons fresh mint leaves, finely chopped or 1 teaspoon dried mint
1 teaspoon salt, or to taste
25 g/1 oz pine kernels
Method:
Soak the pounded saffron threads in the hot milk and set aside until you are ready to use. Wash the rice in several changes of cold water until the water runs clear. Leave to soak in fresh cold water for 20 minutes, then leave to drin in a colander.
Heat the oil in a medium-sized, heavy-based saucepan over a low heat. Add the cinnamon, cardamom, star anise and bay leaves and leave to sizzle gently for 20-25 seconds. Add the rice and stir well to ensure that the grains are coated with the flavored oil. Add the water, stir once and bring to the boil. Add the saffron and milk, cilantro (coriander), mint and salt and boil for 2-3 minutes. Cover tightly, reduce the heat to very low and cook for 7-8 minutes. Turn off the heat and leave to stand, covered for 7-8 minutes.
Meanwhile, preheat a smal heavy-based frying pan over a medium heat, add the pine kernels and cook, stirring, until they begin to glisten with their natural oils and are lightly toasted. Alternatively, cook in a foil-covered grill pan under a preheated medium grill, turning 2-3 times, until lightly toasted. Transfer to a plate and leave to cool.
Add half the toasted pine kernels to the rice and fluff up the rice with a fork. Transfer to a serving dish, garnish with the remaining pine kernels and serve immediately.