India is a nation of munchers where crunchy snacks are distinguished by their varied shapes and textures. Many tools for snack making have remained unchanged for thousands of years, and people are often surprised that the complex spirals of spicy bites such as murukku have actually been created by a simple-looking press.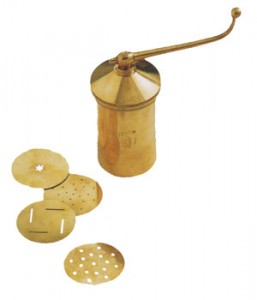 t
Selviya Press
This little brass cylinder with a crank handle incorporates a selection of perforated plates, each with small holes or gashes, chosen according to the shape of snacks required. The press is used for making Sri Lankan string hoppers, South Indian murukkus and other sweet and savory snacks. Dough is pressed into the cylinder, then the top lid of the press is wound down into place. When the handle is turned, it pushes the dough out in the desired shape, ready for steaming or deep-frying.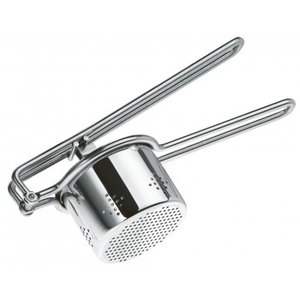 Stainless-Steel Ricer
In the West, this tool is most commonly used for mashing cooked potatoes. In South India and Sri Lanka, ricers may be employed to help shape string hoppers. Made of stainless steel, the ricer has a hinged lid that presses the dough through the perforated base when force is applied. This is done over oiled plates, or banana leaves, so that the piles of string hoppers that are created are ready for steaming.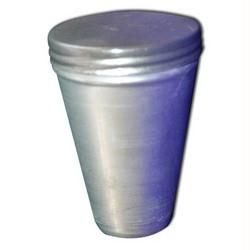 Kulfi Molds
These cone-shaped molds with screw-top lids are used for making kulfi, India's famous frozen dessert. Aluminium is a popular material for molds because it cools more quickly than plastic when placed in ice. Kulfi were originally made in clay pots sealed with dough. In many old quarters, these traditional ices continue to be frozen in the same type of pot today.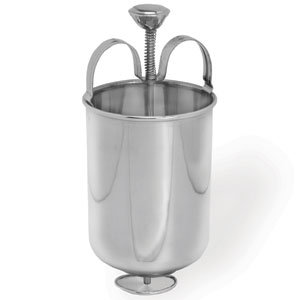 Vadai Maker
Vadai are round, savory rice flour cakes that look like exotic doughnuts; they originate from South India, but are popular throughout the country. The plunger on this stainless-steel gadget forces out the vadai dough in a ring shape that is ready for frying.