Chutneys and raitas are an integral part of an Indian meal. Snacks and starters such as samosas, onion bhajiyas and tikkas are always accompanied by an array of mouth-watering chutneys. This chutney tastes wonderful yet it is so simple to make. If you like the refreshing mint and cilantro (coriander) dip served in Indian restaurants, mix a tablespoonful of this chutney with 125 g/4½ oz whole milk natural yogurt. Taste and adjust the seasoning if necessary.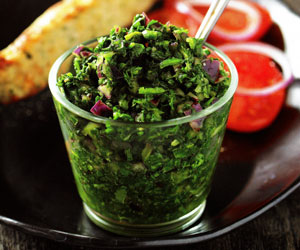 Ingredients: (Serves 4-6)
55 g/2 oz tender fresh spinach leaves
3 tablespoons fresh mint leaves
2 tablespoons chopped fresh cilantro (coriander) leaves
1 small red onion, roughly chopped
1 small garlic cloves, chopped
1 green chili, chopped (deseeded if you like)
2½ teaspoon granulated sugar
1 tablesoon tamarind juice or juice of ½ lemon
Method:
Put all the ingredients in a blender or food processor and blend until smooth, adding only as much water as necessary to enable the blades to move.
Transfer to a serving bowl, cover and chill in the refrigerator for at least 30 minutes before serving.