About Soup and congee
Most Chinese people have a penchant for soups, derived from the yin-yang philosophy that they are sustaining because their ratio of substance to liquid is purported to right any bodily imbalance. The variety of soups is wide. Some are practically stews, with lots of meat, seafood or noodles, and meant as complete meals in themselves. Lighter soups have a different role to play as refreshing dishes, or to help dry dishes go down well.
Congee is a rice porridge, the staple of most rural communities in South China and typical breakfast fare. Traditionally, it is made with broken rice grains. For variety, the basic mixture can be flavoured with a wide range of tasty extras such as white fish, shredded chicken, mushrooms, dough sticks, fresh cilantro (coriander) and sliced chilies.
Chicken and mushroom soup recipe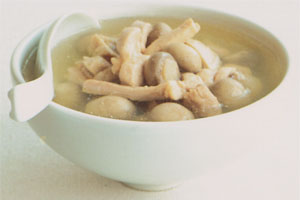 Cut 1 skinless chicken breast fillet into 1 cm (½ inch) cubes. Wipe clean 250 g (9 oz) fresh mushrooms such as enoki, shiitake, oyster and chestnut (cremini) mushrooms (or use a mixture) with a piece of damp kitchen paper. Cut into bite-sized pieces. Put the mushrooms and chicken in a pot with 800 ml (3¼ cups) water, 1 chicken stock (bouillon) cube, crumbled, and 1 tbsp light soy sauce. Bring to the boil, reduce the heat slightly and simmer for 25 minutes. Stir through 1 tbsp chopped flat-leaf parsley and ½ tsp freshly ground black pepper. Serve hot.
Congee with shrimp and scallions recipe

Wash thoroughly 200g (1½ cups) jasmine rice, and put in a pot with 1.5 litres (6 cups) water. Bring to the boil, cover, reduce the heat slightly and simmer for 40 minutes until the rice grains are slightly pulpy and the surrounding liquid is opaque white. Peel and devein 150 g (5½oz) small raw shrimps (prawn). Tip them into the congee, and simmer for 5 minutes until pink and opaque. In the last minute of cooking time, stir through 1 tbsp sesame oil and tsp freshly ground black pepper. Garnish the congee with 2 tbsp finely chopped spring onions (scallions) just before serving hot.