About the usage of woks and their accessories
The wok has a mystical history dating back some 3000 years, yet in all that time has never changed its ingenious shape. Riding on the popularity of stir-frying as a healthy cooking method, it is now endorsed by chefs of many nationalities, and can be a best friend in the home kitchen, too, serving as a deep-fryer, steamer, braiser and boiling pot, all in one pan. The wok's shape ensures that heat is concentrated at the base and less intense at the sides, making it ideal for stir-frying. A flat-bottomed frying pan simply does not do the job as well. Avoid trendy reinterpretations of the timeless design.
To get the most out of your wok, familiarize yourself with its accompanying tools, which help to transform it from simple pan into multitasking wonder cooker.
About Woks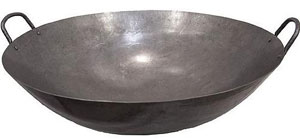 Today, woks come in a wide range of materials and sizes. The best are made of heavy cast iron and usually need only to be seasoned before use. New ones, however, must be filled with oil and heated through before being drained and dried. For other metals given to rusting, use a metal scouring pad to remove any traces of rust before you start cooking. Nonstick woks are not suited to rapid stir-frying because the action of the ladle may chip the pan's synthetic coating. A wok made from stainless steel will conduct heat very rapidly, so is liable to burn food too easily. Electric models are not ideal for stir-frying, as they conduct heat at a rapid and uneven rate; however, they are good for braising and steaming. Choosing either a single- or double-handled wok is largely a matter of preference.
One-handled versions are favoured by restaurants because they allow the chef to easily toss large quantities of ingredients during stir-frying, which aids the action of the wok ladle.
WOK LID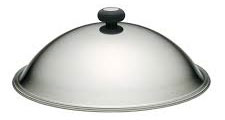 Wok lids are necessary for braising, steaming and smoking; they are also used to facilitate the stir-frying process. When placed on the wok during cooking, they create a flash of dense moist heat, thereby speeding up cooking.
WOK STAND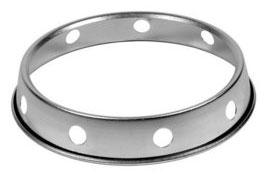 The wok's round base does not sit well on the stove top. Circular wok stands, typically made of iron, have four teeth that are strategically placed to grip the crossbars of the stove, allowing the wok to sit firmly without tipping.
DRAINING RACKS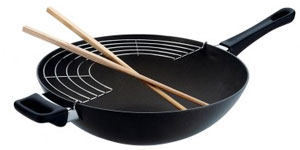 These come in bamboo or metal, and are placed at the side of the wok to drain deep-fried food such as spring rolls. Hooks at the end of each crossbar keep them steady.
STEAMING TRIVET
Originally made of bamboo or wood, these are now often metal. Simple grids made up of two crossbars, they rest at the bottom of the wok, and cradle plates and bowls during steaming, keeping them above the boiling water.
BAMBOO WOK-CLEANING BRUSHES
A precursor of the ubiquitous plastic washing brush, this is no more than a bunch of bamboo or fine wooden slivers bundled together to form a thick brush that is comfortable and easy to use. Excellent for removing stubborn stains and charred grit, wok-cleaning brushes come in various sizes.
LONG CHOPSTICKS
These large extended chopsticks (up to 45cm/ 18in long) are used for manipulating noodles and deep-fried foods in the wok. Their length allows the cook to keep a safe distance from spluttering hot oil, while the string at the top helps to keep them manageable.
WOK LADLE
There is total logic to the design of the wok ladle, which is a little like a shovel. The size and shape correspond exactly to the base of the wok so that, in one scooping action, almost all the food is tossed and turned for effective stir-frying. The slightly raised sides prevent spillage, and the angle of the head corresponds to the gradient of the wok for ergonomic comfort. Wok ladles are traditionally made of metal with a wooden handle, or shaped from one piece of rust-resistant metal alloy; today, they are available in stylish stainless steel or wood, and are sometimes slotted to aid draining.