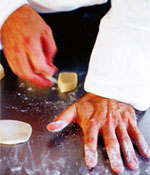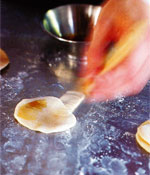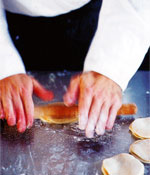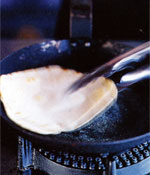 These thin pancakes are also called duck pancakes and are used for wrapping Peking duck and several other northern dishes, such as crispy skin duck, mu shu pork and mongolian lamb.
Ingredients: (Makes 24-30)
450 g (1 lb) plain (all-purpose) flour
310 ml (10 fl oz/1¼ cups) boiling water
1 teaspoon oil
Roasted sesame oil
Method:
Sift the flour into a bowl, slowly pour in the boiling water, stirring as you pour, then add the oil and knead into a firm dough. Cover with a damp tea towel (dish towel) and set aside for 30 minutes.
Turn the dough out onto a lightly floured surface and knead for 8-10 minutes, or until smooth. Divide the dough into three equal portions, roll each portion into a long cylinder, then cut each cylinder into 8 to 10 pieces.
Roll each piece of dough into a ball and press into a flat disc with the palm of your hand. Brush one disc with a little sesame oil and put another disc on top. Using a rolling pin, flatten each pair of discs into a 15 cm (6 inch) pancake.
Heat an ungreased wok or frying pan over high heat. Reduce heat to low and place the pairs of pancakes, one at a time, in pan. Turn over when brown spots appear on the underside. When the second side is cooked, lift the pancakes out and carefully peel them apart. Fold each pancake in half with the cooked side facing inwards, and set aside under a damp cloth.
Just before serving, put the pancakes on a plate in a steamer. Cover and steam over simmering water in a wok for 10 minutes.
To store the pancakes, put them in the fridge for 2 days or in the freezer for several months. Reheat either in a steamer for 4-5 minutes or a microwave for 30-40 seconds.