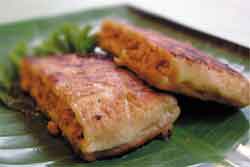 Murtabak is a wrapped roti canai filled with minced meat curry with eggs and onion.

Ingredients:

300 g minced meat (mutton/beef/chicken)

2 large onions, diced 1/2 cm

1 stalk celery, finely chopped

4 green chilies, seeded and sliced

1 tablespoon meat curry powder

1 teaspoon chili Powder

1/2 teaspoon turmeric

1 teaspoon garam masaka

1/4 teaspoon pepper, freshly ground

2 cloves garlic, chopped

1 cm ginger

1/2 cup water

3 tablespoons ghee

4 eggs, beaten

Salt to taste

Method :
Mix meat curry powder, chili powder, turmeric, garam masala and pepper with a little water to form a paste.

Heat 2 tablespoons ghee in a frying pan.

Fry the garlic and ginger till fragrant.

Add blended spices above and fry for 3 minutes.

Add meat and salt.

Keep frying, add water, cover the pan.

When the meat is cooked, add onion and green chilies slices.

Reduce heat and simmer until the mixture dries.

Allow it to cool.

Season the beaten eggs with salt and pepper.

Add meat and chopped celery.

Mix well. Divide into 6 portions depending on the size of murtabak.

Punch our dough.

Divide dough into 6 parts. Flatten each ball thinly.

Transfer it with a rolling pin to a hot greased griddle.

Put a portion of the fillings in the middle of the flattened dough.

Fold the sides and enclose the fillings by wrapping completely.

Spread a little ghee and continue cooking.

Turn it over and cook the other side.

Keep frying and turning until both sides are crispy and golden in color.
For dough
To serve
Cut the murtabak into bite size and serve hot with curry, pickled onions or plain.
Traditional way of how murtabak is made: