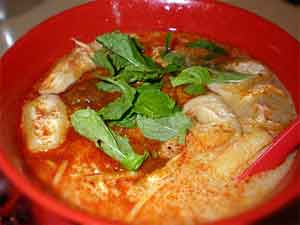 Ingredients :
300g yellow noodles, washed and drained well
150g bean sprouts, blanched
4 pieces of bean curd, sliced
2 red chilies, sliced thin
2 limes, cut into 4 pieces
2 tablespoons fried shallots slices
200g chicken pieces
For the curry
300g grated coconut, extract 2 cups of thick milk
1 cm fresh turmeric
1 cm fresh ginger, sliced
1 cm galangal, sliced
2 lemon grass (white part), sliced
3 candlenuts
4 dried chilies, blanched
8 shallots, peeled
1 cm shrimp paste
4 cloves garlic, peeled
4 cups water or stock
2 tablespoons cooking oil
1 teaspoon salt
Method :
Use a food processor to grind the turmeric, ginger, galangal, lemon grass, candlenuts, dried chilies, shallots, shrimp paste and garlic into a fine paste

Heat the oil in a pot.

Fry the curry paste until fragrant.

Add in chicken pieces.

Fry for 2-3 minutes.

Add water or stock and bring to boil.

Add bean curd, coconut milk and salt.

Simmer the curry over low heat. Keep warm
To serve
Put some bean sprouts, noodles and ladle the hot gravy in.

Garnish with sliced chilies, shallots and a piece of lime.